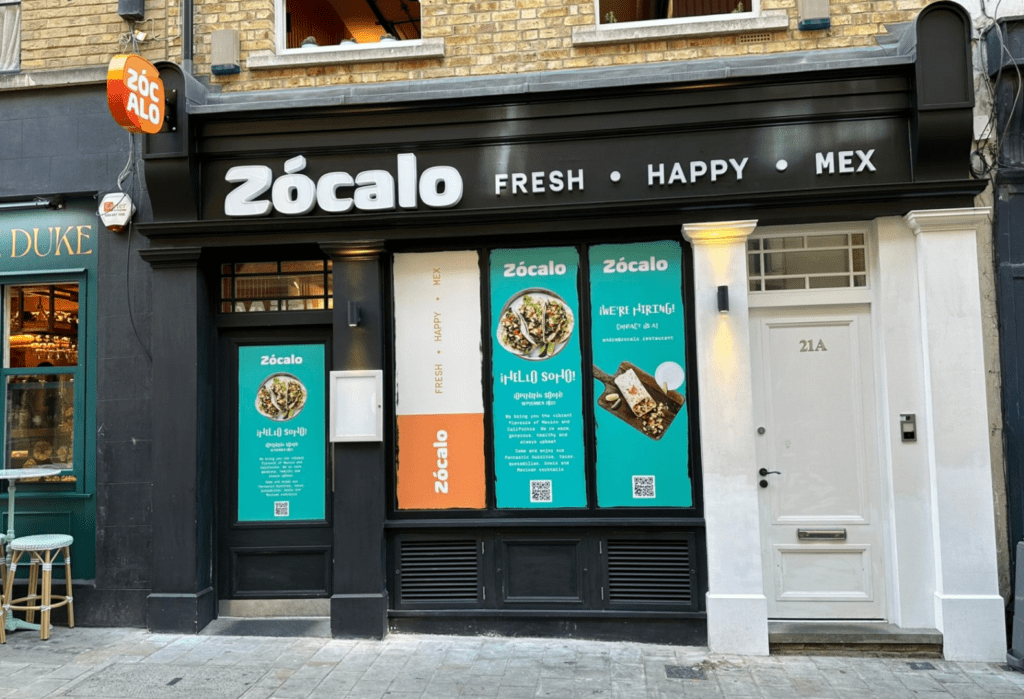 London, September 2023 – International Football Star José Fonte is set to conquer a new field as he ventures into the culinary world with the grand opening of the first Zócalo franchise in the heart of London's vibrant Soho district.
Inspired by the taquerias in San Francisco's Mission District, Zócalo's Fresh Happy Mex concept has won the hearts of food enthusiasts worldwide since its inception in 2002. Known for serving Mexican food made from scratch with the finest, high-quality ingredients, Zócalo has become a household name across Sweden, Iceland, and Denmark. Now, with the support of football sensation José Fonte, the eagerly-awaited Zócalo franchise is ready to mark its territory in the UK and Ireland, starting with the much-anticipated launch in London's Soho.
"We are delighted to have secured the Zócalo UK Master Franchise and to have signed up our first franchisees, José Fonte, and Andre Martins. We're really looking forward to working with them both and excited to launch the Zocalo brand in the UK."

– UK Master Franchisees Pritesh and Shiv Amlani
Together, Fonte and Martins bring a dynamic synergy that promises to redefine the Mexican dining experience in the UK, presenting Zócalos' authentic flavours and captivating ambiance to a whole new audience.
The much-anticipated opening date for Zócalo Soho is set for September, inviting food lovers and culinary enthusiasts alike to experience a true Mexican fiesta right in the heart of London. With a menu that boasts high-quality burritos, burrito bowls, quesadillas, tacos, and nachos, crafted to perfection from carefully selected ingredients, guests have the freedom to either indulge in one of the delectable set menu items, each available with a choice of protein, or they an unleash their culinary creativity and build their own unique Mexican feast.
"We are absolutely thrilled to embark on this exhilarating new venture. Joining forces with my partner, Andre Martins, we couldn't be more excited to unveil the very first Zócalos franchise in the UK."

– José Fonte
"With over 6 years in hospitality, formerly at Roka and Zuma London, and since meeting José back in 2018, this partnership represents a true meeting of minds, blending our shared passion for culinary excellence and the vibrant spirit of Mexico. Furthermore, the pleasure of collaborating with UK Master Franchisees Pritesh and Shiv Amlani amplifies our excitement for this new opportunity. Their unwavering dedication and vision for success make them the perfect allies on this thrilling journey."

– Andre Martins
Join international football star José Fonte and partner Andre Martins as they embark on this exciting new venture, bringing the vibrant and bold spirit of Zócalo Fresh Happy Mex to the heart of London's Soho. Football fans and food lovers alike are invited to witness this extraordinary fusion of talents and flavours that is sure to make Zócalo Soho a sensation.
You can visit Zócalo in Soho at 21 Great Windmill St
For more information, please visit https://www.zocalorestaurant.co.uk or follow us on Instagram – @zocalosoho